We became vegan in Feb. 2014. Mainly, for moral reasons. We care about animals, we love them. We do not support the abuse and cruelty that the meat/dairy industry generates and believe that individual choices make a difference. "Be the change that you want to see".
So far it's been challenging but like Bob Marley said, if there's a will there's a way. We are very conscious of what we eat now, we've making a habit of reading the ingredients on everything we purchase. In the process, we have learned a lot about GMO's, processed food, supplements, and "organic" vs. "natural" produce. It has open a great variety of knowledge to us.
As we departed on our trip across the Americas, we've decided that it's better to have our own supplies to make our own meals, so we stocked up with a bunch of bulk food from Provisions Organic Market, back in Sag Harbor. The highways offer mostly fast food, where there's very limited options if at all, for us.
We will be listing the restaurants/cafes we've visited and liked along the way, and also some of our favorite recipes, so if you are a vegan on the road, this might be helpful. Feel free to ask us about anything related to our vegan/journey.
DOWN/THE VEGAN LINE
Being from Peru I love spicy food, I think I put hot sauce in almost everything and I never noticed it till my friend Mark asked me: Ingrid is there anything you eat without extra spice? It's because of this love affair with spicy food that I like to make my own hot pepper sauce.
This is a very simple recipe that I use as a base when cooking, but beware that is very powerful so it's better let it sit for a few days before starting to use it, so it loses some heat and gains more flavor.
Ingridients
Hot peppers(as many as you want to fill a small jar): jalapeño, habanero, limo
Garlic, a lot
Olive oil
White vinager
salt
Preparation
I use a mechanic food processor, so I cut the peppers into pieces, peel the garlic and also cut it, and then throw everything in the processor with a good amount of olive oil. I don't use a blender because we don't have one in the van, but also because I like it to be chunky and not a paste. Transfer to a glass container and add some white vinegar and salt.
I don't have specific amounts for this recipe because I adjust it to what I like, and for that I throw a lot of garlic, and enough oil and vinegar for it to have liquid but without covering the whole mix since it will become more juicy with time. Also if you want it to be less spicy you can take out the seeds and veins off the pepper, but make sure to really wash your hands with hot water after or it could be a very bad situation if you touch your eyes, etc.
I use it as a base for soups and curry, also on lentils. But remember this a very spicy mix so you just need a tiny bit at a time, or make sure to try it before adding more. Hope you enjoy it!
Liberia
Ozaki. Japanese-Peruvian fusion with plenty of vegan options, we had the most delicious vegan Ramen at this place.
Tamarindo
Pura Vegan. This is by far the most exciting experience going out in a long time. We haven't seen a lot, if not any, proper vegan restaurants in a long time so this was a very happy surprise. Everything is amazing!
NICARAGUA
Aserradores
Granada
San Juan del Sur
EL SALVADOR
We found plenty of pupuserias all across El Salvador, pupusas are hand made tortillas filled with any kind of meat, beans, cheese and some times veggies, they come with a mix of pickled/spicy salad on the side. The cool thing about pupusas is that they are made on the spot so we were able to get vegan versions most of the time, meaning they were filled with beans and some other veggie. And another good thing about pupusas is that they are mad cheap, so if you are in a budget they are a good option!
El Tunco
GUATEMALA
San Marcos La Laguna, Lago Atitlan
San Juan La Laguna, Lago Atitlan
Antigua
MEXICO
Ensenada, Baja California Norte
El Trailero Taqueria. While spending some time in La Mision, our good friend Evan took us to his favorite taqueria. We drove from San Miguel(epic surf spot) south, towards Ensenada. 5-10 minutes before hitting Ensenada pay attention to your left side, you will see some little restaurants one after the other. Make sure not to miss El Trailero. We ordered veggie tacos,which was basically beans, guacamole and some delicious salsa, with sides of whole hot peppers, and radishes. It was the most basic and simple tacos but full of flavor, not only that, they charged us half the price so it was definitely worth our while.
Todos Santos, Baja California Sur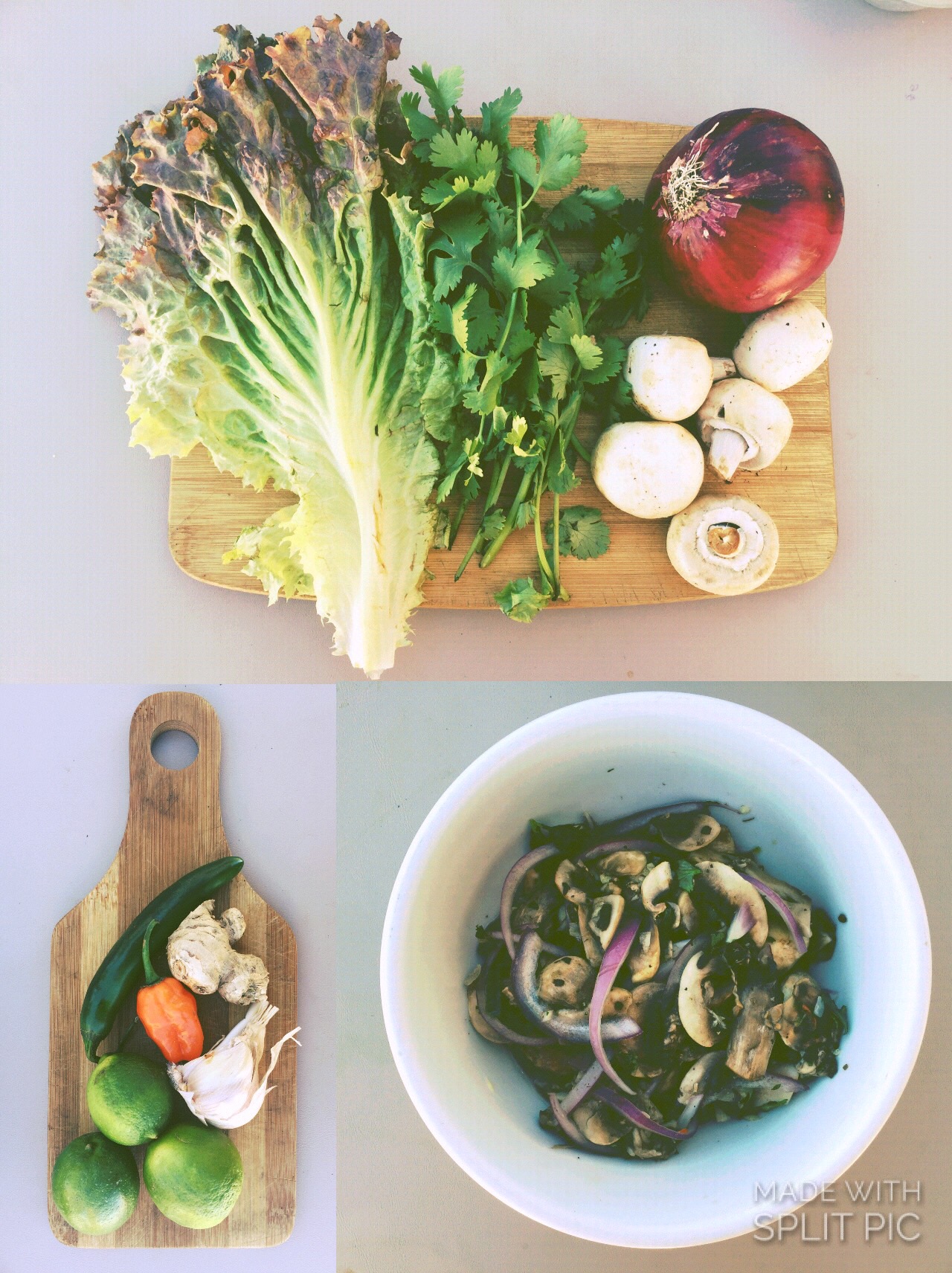 I've always loved ceviche, it's a very typical dish in Peru and I was missing it since I became vegan. The last time I went to visit my family in Lima my grandpa Carlos taught me his recipe for this vegan summer classic. And I now add some of my mom's kitchen secrets to my own personal version. Buen provecho!
Ingredients
2 packages of white mushrooms
1/2 red onion
a handful cilantro
small piece of ginger
4 - 5 garlic cloves
1 jalapenho pepper
1 another kind of hot pepper
6 - 8 limes(juiced)
olive oil
sea salt and pepper(to your taste)
1/2 cup of water
lettuce
1 sweet potato(boiled and peeled)
Preparation
First cut the red onions in half moons as skinny as you can, soak them in cold water for 5 minutes and then change the water soaking them again for another 5 minutes, then drain. This will take away the bitterness and strong flavor of the raw onion, if you want it to keep it's crunch add some ice to the water.
In a mortar, add the cilantro, ginger, garlic and hot peppers(with the seeds), make sure you cut all these ingredients very very small. Add some olive oil and 3 limes, start crushing everything together, then add salt/pepper. Add a little bit of water so the mix isn't so thick. Let it sit.
Now cut all those mushrooms into skinny pieces.
In a bowl combine the onions and the mushrooms, add the rest of the limes. Add the mix you made in the mortar, mixing everything together as you pour it in. Slowly add the rest of the water and mix again. Let it sit for 5 minutes.
The lime juice is what's gonna cook the mushrooms, I add a little water to make it juicer and so the citrus flavor doesn't overtake. You can add a bit more olive oil before you eat it.
Serve it over a big leaf of lettuce and garnish with a piece of sweet potato if you feel like it, these are the ingredients that will save you from the heat if your peppers are really spicy, which is the part I like the most of a ceviche, its heat!
We are always making fires at the beach, so why not take advantage of the wood burning, which also makes everything taste better.
Ingredients
radishes
poblano peppers(whole)
white onion
eggplant
zucchini
peppers(red, yellow, green)
portobello mushrooms
basil(chopped finely)
1/8 olive oil
1/8 balsamic vinegar
2-3 lemons
sea salt and pepper
1/4 cup of water
Extra items
grill
long tongs
skewers
tray
brush
Preparation
First a simple raw appetizer. I love radishes so I wash them, cut them in half and serve them with a small bowl full of sea salt on the side, voila! That's it!
Cut all the veggies in big pieces(ideal for a bite) and pinch them on the skewers alternating colors so it looks like a rainbow. Place all the veggie skewers on a tray.
In a cup mix the basil, olive oil, balsamic vinegar, lemons, salt, pepper and water.
Brush all the veggie skewers with the mix you just made, be very generous, and make sure to turn them around so all the sides get soaked. Pour most of the mix evenly and let it soak, if needed add more olive oil.
Hopefully by now your fire is pretty hot so you can pull to the side some hot coals to make a cooking bed for your grill. If you have long tongs, use them to turn the veggies around so you don't burn yourself…
Remember the Poblano peppers? Well those are very interesting peppers, sometimes they are flavorful and not spicy at all, and other times they are so hot they'll make you cry and sweat. If you are adventurous try this, brush the peppers with the mix you made, add some sea salt and put them on the grill, turning them around once in a while. When you see them getting soft means they are ready. Let them cool off a little and eat them just like that, it will be a surprise.
Place the skewers on the grill and let them cook making sure to turn them once in a while. As you cook them add some of the juice left on the tray to keep them moist. When the veggies are soft and juicy means your grilled veggie skewers are ready!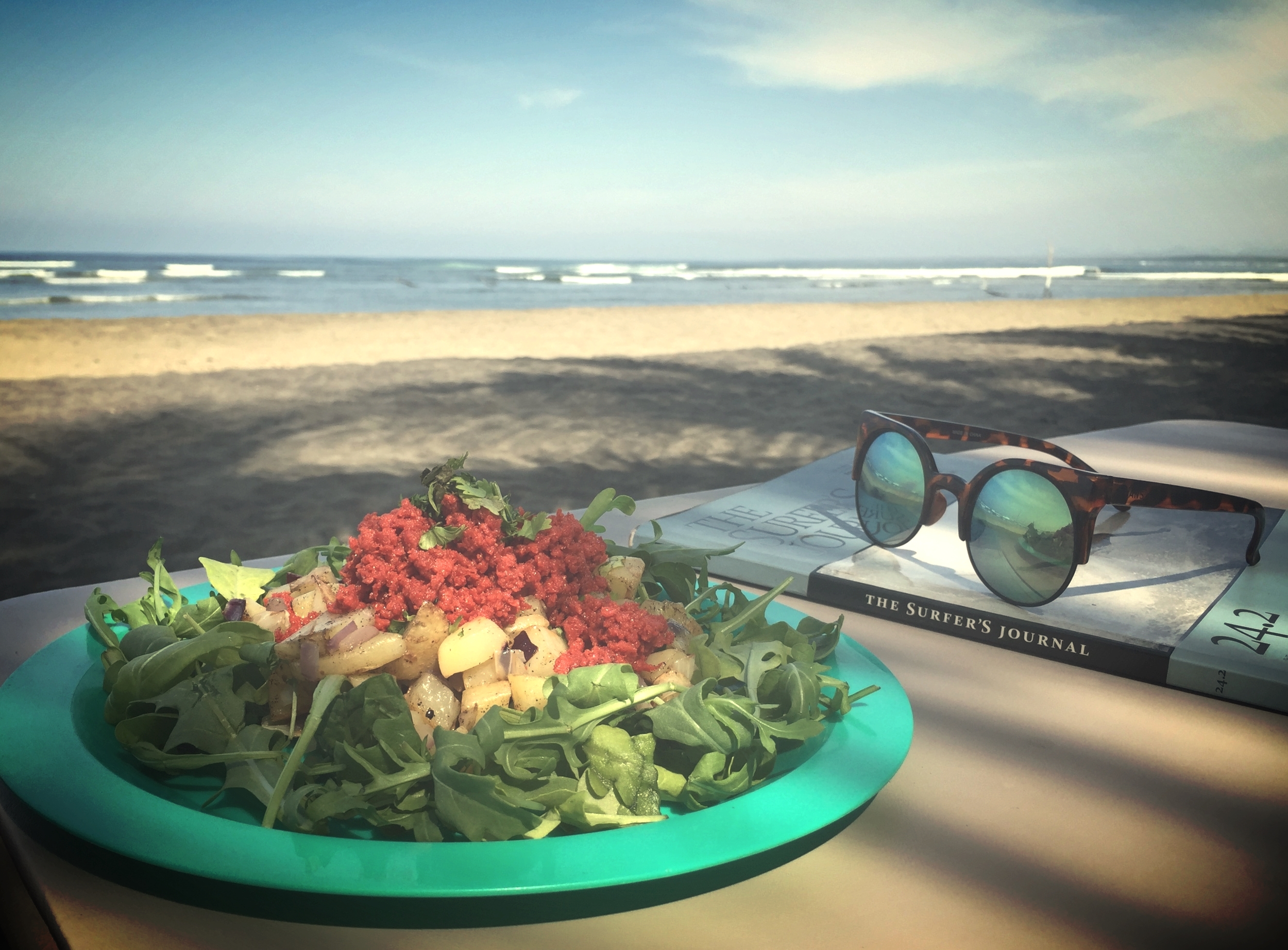 If you thought you couldn't find soyrizo in Mexico, think again! This is a delicious vegan breakfast we made while checking the waves at this epic long board wave spot. It's easy, tasty and filling after a surf sess.
Ingredients
baby arugula
potatoes
onions
garlic
sea salt and pepper
coconut oil
soyrizo
Preparation
Cut the potatoes in small cubes and fry them in coconut oil, add the onions, salt, pepper and garlic. When done, leave on the side to cool. On the same pan add a little more oil and add the soyrizo, fry it for a few minutes. Lay the baby arugula on a plate, place the potatoes on top and then the hot soyrizo. Voila! Doesn't get easier than that.
Cabo San Lucas
Cabo Pulmo
Puerto Escondido
Barra de la Cruz
Tapachula
Mexico City
USA
New York
Atlanta, GA
New Orleans, LA
Austin, TX
Roswell, NM
Santa Fe, NM
Springdale, UT (Zion National Park)
Santa Cruz, CA
San Francisco
Monte Rio, CA
Los Angeles, CA
Oceanside, CA